Today, a new flare up in rebellion in Venezuela occurred. The Maduro regime, a Socialist government with close ties to Cuba and now Russia, is seriously and intentionally failing its people. There is no food and no medicine, and what food has been sent by peaceful means from foreign charitable organizations has been turned away, blocked from entering the country or burned by the Maduro government. In one generation, that regime has taken a country that was rich in oil and stood as one of the wealthiest countries in the Western Hemisphere (behind only the US and perhaps Canada), and reduced it to sub-Third World status. It is a government effort against its own people of monumental proportions and inhumanity, reminiscent, though not quite the magnitude, of Mao Tse-Tung's Cultural Revolution in Red China.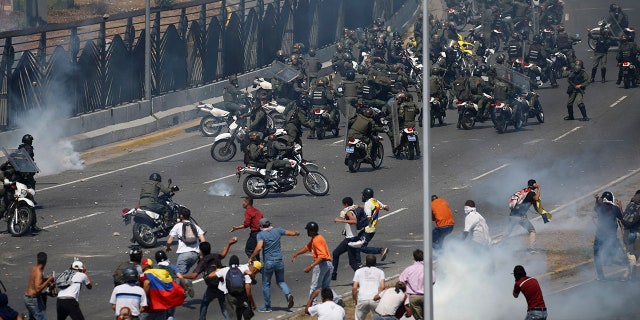 Where did it start? There are arguably several sources, but undoubtedly, the inability of the people of Venezuela to wage a successful rebellion so far is principally the disarming of the general public by the Chavez/Maduro regime about ten years ago. There may have been some opponents of the disarming back then, and there may have been some legal provision in Venezuela's constitution or laws permitting or even guaranteeing the citizen's right to bear arms. But, when a Socialist government installs itself, as Maduro's did during the tenure of his mentor and predecessor, Hugo Chavez, the control of the narrative and the systematic violation of the laws is fully in the government control. Rights, freedoms and guarantees are swept away by Socialist regimes with hardly the bat of an eye, when disarmed dissidents risk speaking out.
This past weekend at the Florida Gun Show at the Miami-Dade County Fairgrounds, one of the vendors had a stack of leaflets titled, "Florida Gun Owners Beware". It states that an organization called "Ban Assault Weapons Now" ("BAWN") is pushing for an amendment to the Florida Constitution to bar, "any semiautomatic rifle or shotgun capable of holding more than 10 rounds of ammunition at once." Translated this means every single semiautomatic rifle, since this 10+ capacity is simply a matter of inserting the right-sized magazine. A government that passes this law is also capable of interpreting this to mean most shotguns, since shotguns, other than perhaps hinged shotguns can be modified to hold 10+ shots or use 10+ mini-shot, such as those produced by Aguila.
The amendment purportedly would require all current owners to register their rifles or shotguns with the Florida Department of Law Enforcement, failing which these firearms would be deemed illegal. Recently, in California, a man registering his various firearms lawfully made from 80% lower receivers in compliance with a recently enacted law in that state requiring such registration, was visited by a half dozen members of California law enforcement, wearing SWAT apparel, and demanding a surrender of such weapons.
No doubt this organization, BAWN, has been emboldened to seek passage of this amendment following new gun control laws passed impulsively in Florida following the Las Vegas shooting at the Mandalay Hotel, where a rifle outfitted with a bump fire stock was found and following the school shooting in Parkland Florida. One of Florida's new gun control laws, Sec. 790.222, Fla. Stat. (2018), bans bump fire stocks, as well as any device that can mimic or allow a person to shoot faster than a person naturally can unassisted by such device. The ambiguity in the language of this law places the onus on the Florida courts to decide what such other devices are covered by this statute. The included devices appear to include such devices as binary triggers, and triggers with low pull weights made for 3-gun recreational shooting competitions. Some clever chap even figured out how to rapid fire his AR-15 using a belt loop on his jeans. This leaves law abiding citizens who are firearm enthusiasts scratching their heads on whether their firearms, and perhaps their belt loops, are now illegal.
The other recent Florida gun law, Sec. 790.065(13) (2018), took effect in October, 2018 and increased the minimum age to purchase a rifle or shotgun from 18 to 21. Florida law had already long required a minimum age of 21 years old for handguns. This is odd because the gun control crowd presently pretends not to be worried about handguns in the hands of law-abiding citizens. The troublesome part, though, is that we have laws that suggest 18-year olds are mature enough to vote for President, i.e. a person who has access to engaging our country's nuclear arsenal with the push of a button but those same adult teenagers are not mature enough to wield even a light .22 caliber pistol or rifle. Meanwhile, another item on the gun control crowd agenda is to lower the voting age from 18 to 16. And like the effect of the passage of these recent Florida laws on BAWN and its proposal to ban all semi-automatic rifles and shotguns, the BAWN proposal will eventually lead to a ban on handguns as well, once they dispense with the rifles and shotguns.
In case you have not been paying attention to national or state news, we're in a crisis. The crisis is for protection of our rights. These are not just the right to bear arms, but freedom of speech, through political correctness, freedom of religion as the same crowd constantly pushes to marginalize, or even criminalize Christianity and Judaism, and freedom of the press, where Conservative news outlets are systematically ostracized as prejudiced while the liberal Mainstream Media is touted as objective truth. These freedoms, to bear arms, of free speech, religion and press, derive from the unalienable rights: life, liberty and the pursuit of happiness, referenced in the US Constitution. The rights are unalienable in that no person, or group of persons, such as a government may infringe, impede or violate such rights against anyone. As someone once said, government is not meant to give the people their rights, but to protect them.
Even so, the governments in Venezuela, in Cuba, in the former Soviet Union, Red China and other Socialist countries found a way to make exercise of these unalienable rights a crime punishable by incarceration, hard labor and often death. We believe these rights to be sacred in the United States, but for how long? The Left has succeeded in removing any prayer or mention of our Creator from our schools, removed representations of Judaic laws known as The Ten Commandments from various courthouses, removed nativity scenes during Christmas season and even the term Christians to denote believers in Jesus Christ, favoring instead the more pagan term, "Easter worshipers." If what is most sacred, that is our Creator, has been wiped from the daily narrative and pushed to the back burner of our culture, what can we expect of the Left with respect to those unalienable rights derived from Him. Today, in the USA, they simply find offense at anyone who exercises these rights; tomorrow, they'll criminalize such exercise.
We the People simply cannot sit back and expect a group of persons to faithfully determine when and more importantly, if, our unalienable rights will be observed and respected.  Just to be clear, while we at SFG&A Club love our firearms, this article is NOT a call to arms, but a call to civil, but aggressive and relentless call to action, while we still have a chance and the power to make a difference without the chaos and bloodshed historically associated with Socialist revolutions and the efforts to oppose them. We the People must be willing to assert our authority over those who are privileged to serve us in governmental roles, especially when such civil servants have forgotten their place, lest one day, in the not too distant future, the grand USA falls to the depths of Venezuela's decline or worse and we find ourselves being the ones in those news pictures throwing rocks at military tanks because we failed to impede the erosion of our unalienable rights. There is still time, but we must act.